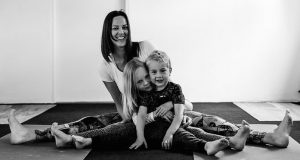 Johanna
I'm a mum of two and yoga has become my passion over the last 15 years.  It all started when I was working as a dancer and attended yoga classes to work on my flexibility.  To start out with, yoga was just a form of exercise for me, something physical I did on the mat.
With time, yoga proved to have deeper meaning and I found that it is not just 'done on the mat' but rather, it is a way of life.  So I brought yoga off the mat and into my daily life.  Yoga affects my interactions with other people and the planet, my parenting decisions, and even influences the choices I make in the kitchen.  My guru, Yogrishi Vishvketu, always says that yoga starts in the kitchen, eat happy food and you too will be happy.  So simple.
I never stop learning about myself or the mystical path yoga brings me on.  Yoga can truly be life changing.  This is a journey I wish to support every one of my students on.  Each person's path is unique so there is no sense of 'the right way'.  Everyone and anyone can practise yoga whether they can touch their toes or not, and remember it's not just about the physical, it runs deeper than that.  I am by no means perfect and I do not expect my students to be, such a person does not exist.  I make mistakes and am truly human, with flaws just like everyone else.
Originally from Sweden, raised in the US, my family and I recently moved to Denmark from
 London.  I spent 8 years teaching yoga from my at home yoga studio there, offering local and personalised classes to my community.  I am currently a little over a year into teaching here in Denmark and loving it.  Each yoga class I teach focuses on the needs both physically and emotionally of my students on any given day.  There is no air of competition, just acceptance.  I love teaching a variety of people from all walks of life and welcome all ages.  Together, we will explore, laugh, maybe even cry, move, challenge ourselves, rest, and share space and time together. 
My main goal is for you to walk out feeling invigorated, uplifted and most importantly with a smile on your face.  You can read more about what other students think of my classes in the testimonials section.
I have been teaching yoga since 2009, after a life changing journey to Rishikesh, India where I completed my first yoga teacher training and came home full of life and love, bursting to share my new knowledge and help people on their own individual journeys.   You can read more about my certifications here. 
Please note that all classes will be taught in English.  Feel free to test my Danish, but be aware that I am still learning!